The Greg Marzolf Jr. Symposium on Oct. 4, 2012 commemorated ten years of support and progress in the partnership between the Greg Marzolf Jr. Foundation and the Paul and Sheila Wellstone Muscular Dystrophy Center at the University of Minnesota.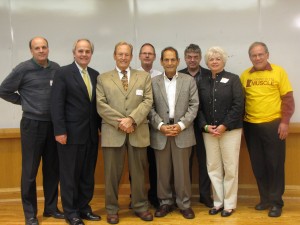 "The Marzolf family has gone above and beyond the call of duty by raising private funds to support the activities of the MD Center," said Dr. Daniel Garry, Interim Director of the MD Center, during his opening remarks.
The annual event is an opportunity to showcase the exciting neuromuscular research currently being conducted by students at the University of Minnesota and hear from a guest speaker about cutting-edge advances in MD therapies and research nationally.
This year's guest speaker was Jerry Mendell, MD, director of the Center for Gene Therapy and Paul D. Wellstone Muscular Dystrophy Cooperative Research Center at Nationwide Children's Hospital. 
Dr. Mendell has received multiple awards for his contributions to the field of neuromuscular diseases with an emphasis on muscular dystrophy. He was the first person to do gene therapy for Duchenne muscular dystophy, is internationally recognized, has published more than 300 peer reviewed papers, and has authored two books.
Dr. Mendell explained that "Duchenne muscular dystrophy is the most common life-threatening childhood form of muscular dystrophy and we are compelled to find a treatment for this disease — and I really have spent my life doing that."
During his remarks, he updated the audience on some advances in clinic gene therapy trials and newborn screening studies.
A New York Times article, "Drug Shows Promise in Treating A Type of Muscular Dystrophy in Boys" recaps promising outcomes from one of Dr. Mendell's recent clinic trials.
Prior to the keynote speech from Dr. Mendell, more than 40 post-doctorate, doctorate, graduate and undergraduate students from the University of Minnesota presented their research ranging from how muscles work and are developed as well as understanding different methods to treat muscular dystrophy.
Funds from the Greg Marzolf Jr. Foundation established, and continue to support, the Gregory Marzolf Jr. Training Program at the MD Center. This year, the Greg Marzolf Jr. Foundation has awarded $50,000 to the Gregory Marzolf Jr. Training Program, thanks to the support of our generous donors.
The following researchers and students were recognized as the 2012 Marzolf Awardees.
Marzolf Scholar Award — Dr. DeWayne Townsend
Project Description: Heart disease is a leading cause of death in patients with Duchenne muscular dystrophy. Duchenne muscular dystrophy is a uniformly fatal disease characterized by severe skeletal muscle injury and cardiomyopathy, resulting from mutations within the dystrophin gene. The clinical importance of the heart requires that dystrophin's function in the myocardium be a central focus in the development of effective therapies for Duchenne muscular dystrophy. Dystrophin connects the internal cytoskeleton to the membrane and functions as a mechanical buffer, protecting the membrane from the forces of contraction. Dystrophin also serves as a scaffold, coordinating the positions of many proteins. This laboratory explores the physiology of animal models of muscular dystrophy. Through assessment of respiratory, vascular, and cardiac function we hope to uncover the central mechanisms of dystrophic cardiomyopathy. Only by understanding these fundamental mechanisms of disease, will they be able to develop effective therapies.
Undergraduate Research Fellowships
qAshley Brate – Project Title: Effects of disease-causing point mutations on actin's resilience
Iustin Cornea – Project Title: Computational modeling guides therapeutic development for muscular dystrophy
Michael Eckhoff – Project Title: Effects of Differential Utrophin Expression on Contractile Function of Dystrophin-Deficient Mouse Muscle
Praveena Narayanan – Project Title: Regulation of actin turnover in skeletal muscle by Wdr1, Cofilin and Coronin
Benjamin Petrie – Project Title: Baculovirus Based AAV Generation: Adding Efficient Production to Efficient Transduction
Ryan Price – Project Title: Fluorescence quenching measurements to study the structural defects caused by a myosin essential light chain cardiomyopathy mutation.
Jenny Seong – Project Title: Green Fluorescent Protein membrane localization via N-terminal myristylation: proof-of-concept study for the design of a calcium buffering system at the plasma membrane.
Mark Strom – Project Title: POU3F4 Regulation of Satellite Cell Self-Renewal
Please follow and like us: