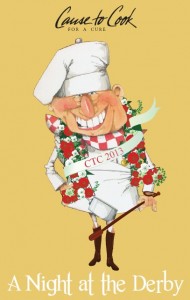 More than 200 generous people joined us for a hugely successful A Night at the Derby Cause to Cook for a Cure gala in January. Together, we raised a total of $49,000 to support MD research for a cure.
Our new beautiful location at St. Thomas University's James B. Woulfe Alumni Hall gave us plenty of room to celebrate, dance, and raise money and awareness for an important cause.
The evening included live music from Lightening Creek, delicious Southern Derby fare, specialty cocktails, games of chance including black jack tables, a cake walk and a prize board, wine tasting, a silent auction and a fund-a-need auction that raised more than $12,000. 
Thank you to our generous sponsors — 1500 am ESPN Twin Cities, Mauer Chev, Nook/Shamrock's, R. F. Moeller Jeweler, Bremer Bank and Decko, 2 Gingers and Sam Adam's – and the many underwriters and our fabulous guests for making the gala an unforgettable night.
All of the money generated at A Night at the Derby – A Cause to Cook for a Cure will be allocated exclusively to support the Greg Marzolf Jr. Trainee Program at the Paul and Sheila Wellstone Muscular Dystrophy Center at the University of Minnesota.
Each year, the Greg Marzolf Jr. Foundation awards grants to researchers in muscle disease. Since the Greg Marzolf Jr. Foundation's support of the program began in 2005, research efforts have increased dramatically.
In total, the Greg Marzolf Jr. Foundation has raised more than $1,000,000 for clinical services and research since its inception more than ten years ago.
---
Please follow and like us: