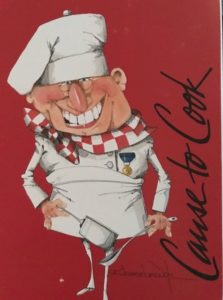 We're proud to share that the Greg Marzolf Jr. Foundation has received a sought-after "Strategies to Realize Innovation, Vision and Empowerment (STRIVE) Award." The STRIVE Awards were created by PTC Therapeutics, Inc., to help nonprofit organizations committed to serving the Duchenne muscular dystrophy (DMD) community.
"We are thrilled to have won this STRIVE Award, which will help us make a huge difference to the lives of people affected by Duchenne," said Patricia Marzolf, President of the GMJF. "The grant will help us create the Cause to Cook for a Cure Cookbook, a DMD patient and community cookbook featuring recipes and personal stories of patients and families affected by DMD to promote healthy eating amongst the DMD community and raise awareness."
This current initiative is inspired by the 30th anniversary of the original Cause to Cook for a Cure Cookbook, that was created after Greg Marzolf Jr. was diagnosed with DMD. Family, friends and local celebrities contributed recipes which were compiled into a cookbook that raised money and built community. It was such as success that the GMJF felt it was time to reinvigorate the concept and tap into the current cultural interest in food.
The cookbook project will be kicked-off at the annual GMJF Cause to Cook for a Cure Gala on January 13, 2018, at which time more details will be shared about how to get involved. For example, a Facebook group will be created enabling families to share recipes, discuss the positive impact of the cookbook, and the impact on healthy eating and cooking habits. The goal will be to have the finished Cause to Cook for a Cure Cookbook available at the 2019 Gala.
The STRIVE Awards recognize the vital role patient advocacy groups play in improving the lives of individuals affected by DMD, and grants are awarded to facilitate unique, inventive ideas or programs that support patients and families within the Duchenne community.
Award entries were received from 32 organizations from across the world. An independent panel of external experts with knowledge in rare diseases, patient advocacy and funding initiatives judged entries for feasibility, creativity, budget, impact and sustainability. The GMJF was one of five organizations to receive the Award, with judges commending the "innovative and collaborative" nature of the winning applications.
For more information on the STRIVE grant and other recipients, click here.
Please follow and like us: