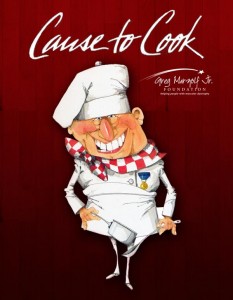 Cause to Cook Cookbook 2.0
Almost 30 years ago, a group of friends got together to create a cookbook to raise money for Muscular Dystrophy research. This cookbook served as a way to raise money for an important cause, but also as a way to bring together our community, to share with one another, and over a meal in each of our own homes – to come to the table.
In 2017, the Greg Marzolf Jr. Foundation was awarded grant funding by the PTC Therapeutics STRIVE program to create a NEW cookbook. The goal of the GMJF, is to create a cookbook that focuses on healthy eating, features families' with Muscular Dystrophy, that just like our previous book, celebrates this community, and perhaps more than anything, that inspires us all to again, come to the table.
Please join us in this exciting new journey by sharing your recipe with us below.
Please consider donating to the foundation: