Last year, 2016, was an incredible year for research and innovation in Muscular Dystrophy. For the first time, a drug for Duchenne Muscular Dystrophy (DMD) was approved by the FDA.
The U.S. Food and Drug Administration (FDA) approved eteplirsen injection in September 2016. This drug is specifically provided for patients who have a confirmed mutation, skipping exon 51, which affects about 13 percent of the population with DMD.
In December of 2016, the FDA approved Spinraza, the first drug approved to treat children and adults with spinal muscular atrophy (SMA), a rare and often fatal Muscular Dystrophy. Spinraza is an injection administered into the fluid surrounding the spinal cord. On February 21st, 2017, the University of Minnesota was the first facility in the Midwest to administer the drug to a patient receiving the commercial treatment.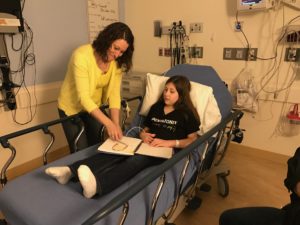 Patient Sophie Lathe and her family are ecstatic about the approval, stating: "We are so honored to help make a path for other SMA patients. There are so many who can benefit from this drug. "
Please follow and like us: