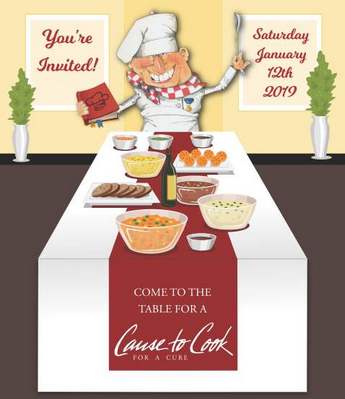 Online registration is now closed. You may still register at the door. You can also make a donation online.

As often happens, when friends get together, a casual comment ferments and eventually grows to a full-fledged idea. Our popular 1989 Cause to Cook Cookbook had just such a beginning! Now, after 30 years, we're working on a second edition cookbook named Come to the Table for a Cause to Cook for a Cure, which will be published in 2019.  This project, along with so many other Greg Marzolf Jr. Foundation events, is due to the unwavering dedication of friends, family and community benefactors that support our  spirit and mission!
Please Come to the Table on January 12, 2019 to help support this cookbook project and to celebrate friendship at it best with the love of food, cooking, gathering and the joy we bring to the table!
5:30pm – Social time with passed appetizers. Check out the items available on the silent and live auctions, browse the market and participate in special foodie activities. Learn more about our cookbook project and don't forget to bring a favorite recipe to contribute to the book.
7:00pm – Dinner with featured recipes from original and new cookbook
8:00pm – Dessert and Coffee with Program, Fund-A-Need and Live Auction
This fun and casual evening will take place at the University of St. Thomas James B. Woulfe Alumni Hall at the Anderson Student Center.
Please follow and like us: